Last Day to Register for SNAP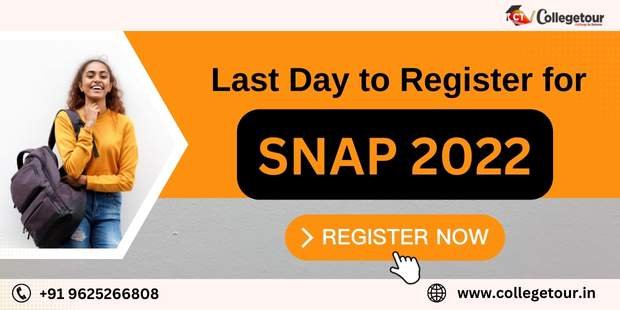 Today that is November 24 2022 is the last to enroll yourself in SNAP Test. the exam is scheduled for December 15, 2022.
Today, November 24, the Symbiosis National Aptitude Test (SNAP) 2022 application window will shut at the Symbiosis International University (SIU), Pune. Through the official website, snaptest.org, candidates can submit an online application for the SNAP test. The application fee is Rs. 1,950, which candidates must pay. It is required to pay a separate price of Rs 1,000 (non-refundable and non-transferable) for each program per institute after paying the SNAP registration fee.
The Schedule of Registration SNAP 2022
Schedule for Registration The SNAP 2022 application date is November 24, 2022. Release Date of the SNAP 2022 Admit Card: December 5, 2022, for the SNAP Test 1 Exam; December 10 and 11, 2022 for the SNAP Test 2 and SNAP Test 3 Exams. December 18, 2022: Test 2. 23 December 2022, Test 3.
How to register for SNAP 2022
Step 1: Go to snaptest.org, the official SNAP registration 2022 website.
Step 2: click on the "Apply now" option on the official page.
Step 3: The next step is to enter your name, birth date, email address, and cell phone number.
Step 4: To access, enter your SNAP registration ID and password (sent to your registered email ID)
Step 5: Complete the form with your personal and academic details, select the test cities and SIU institutions, and upload a scanned copy of your ID and signature.
Step 6: Pay the SNAP form fee using one of the available payment methods.
Step 7: A candidate must now pay a separate payment of Rs 1,000 (non-refundable and non-transferable) per program per institute after paying the SNAP registration fee.
Every year, a national-level management entrance exam called the Symbiosis National Institute Test is given to applicants for its 15 campuses' MBA and PGDM programs. Candidates should be aware that the SNAP 2022 exam will cover quantitative skills as well as general English, data interpretation and sufficiency, and analytic and logical thinking.
Key facts to remember register for SNAP 2022
The exam will be administered in computer-based test (CBT) format on December 10, 18, and 23. The test has a 60-minute time limit. The exam's three sections—General English, Analytical and Logical Reasoning, Quantitative, Data Interpretation, and Data Sufficiency—will each have three questions: Reading Comprehension, Verbal Reasoning, Verbal Ability, and Verbal Reasoning.
On December 5, the official website will make the SNAP test 1 admit card available for download, and on December 10, the SNAP test 2 and test 3 admit cards will be made available. Announcing the results will take place on January 10, 2023.
Candidates will be given a time window between 4:30 and 5:30 pm if they finish paying for SNAP test 3 on or after November 22 to the end of SNAP registrations. Agra, Ahmedabad, Bengaluru, Ambala, Chandigarh, Dehradun, Faridabad, Ghaziabad, Indore, Jamshedpur, Kolkata, Mumbai, Nagpur, New Delhi, Gurugram, Noida, Patiala, Pune are some of the test cities that are suitable to this. Due to SNAP's overwhelmingly positive response, this has been done for the benefit of candidates.