Amrita University: Ranked A++ grade by NAAC in India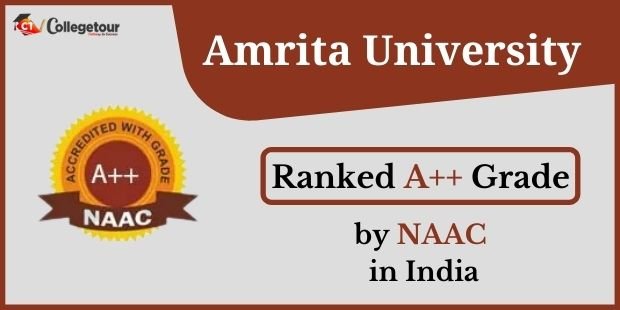 Amrita Vishwa Vidyapeetham has been ranked grade A++ in India by NAAC (National Assessment and Accreditation Council), it is the national body that assesses higher education institutions in India. It has managed to achieve this rank within the few years of its formation.

Even before this, many rewards have been given in honour of Amrita University or Amrita Vishwa Vidyapeetham online education. In 2021, Amrita University was ranked as the 5th best Indian university in the IRF rankings. In the same year, the university was ranked 81st worldwide in The Impact Ranking. In addition, this university has also been able to consistently make it to the ranks of the world's best universities in the QS rankings for many years.

The Amrita Vishwa Vidyapeetham University has been continuously getting rewards, honours, and recognitions since its establishment. Within a very short span of time it has emerged as one of the most preferred institutes for the students.

Apart from the two new campuses to be set up at Faridabad and Amravati, six campuses at different locations are included in Amrita University. All of them are headquartered in the Coimbatore campus, which is situated in front of the majestic hills of the Western Range. The campus at Amritapuri is surrounded by the clean backwaters of Kollam. At the same time, the Mysore campus is situated at the foothills of Chamundi hills. The Kochi, Chennai and Bangalore campuses have also been designed keeping in mind the contours of these cities.

Dr. Venkata Rangan, Vice Chancellor of the University said that, "At Amrita University we try to provide education for a living as well as education for a living. We help our students to become capable of vocation and balance them with the purpose of life. Creating and giving the basis to be successful."

Dr. Raghu Raman, Dean, School of Business said that, "At Amrita University, compassion is not just a feeling, it is a path of learning. It is a subject that is spearheaded by our Chancellor and drives the university's vision and practices Dr. Raman explains that its sole objective is social impact. This is revealed by our research in key areas of science, technology, medicine, ayurveda, humanities and social sciences etc. The interesting thing is that it is very important for the world at large. But in line with many of the ongoing United Nations Sustainable Development Goals."

Those who are graduated from the Amrita University and Amrita Online Education are surprisingly emerging as the most talented or expert in their field of discipline. The world's top corporate companies like Google, Cisco, Microsoft and SAP have chosen Amrita Vishwa Vidyapeetham University for hiring employees. As a result, 95% of the students get selected in major MNCs at a salary package of up to Rs 65 lakhs per year.

Amrita Vishwa Vidyapeetham and Amrita Online Education is more than a reputed institution. It is a strong community of 50,000 scholars, faculty and alumni who drive social change.